The Art of Such n Such Bonnaroo 2007
Brought to you by Sparceland LLC. & howhowhow.com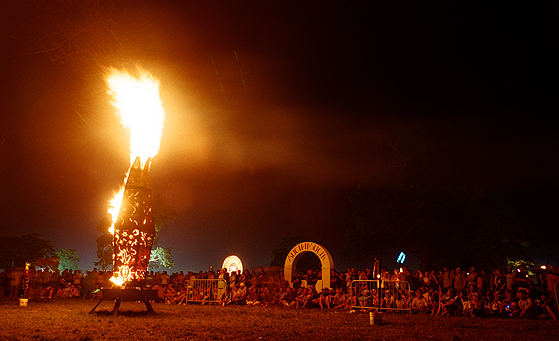 The Art of Such n Such Bonnaroo 2006, photo by Jaime Ladet
This year we present an arena bursting with interaction and visual stimulation. The Art is Alive! Artists will showcase aspects of the installation during the day and night. We bring you hoola hooping madness, dramatic fire shows, transforming sculptural painting installations, the notorious Wheel of Mustachio, the Hot n Spicy Peepshow Puppet Theater, giant chairs, picture frames, amazing electric light projections, along with spark spitting sculptures and towering flames. We interact with the participants of the Bonnaroo music festival in an organic method presenting them with an art experience not found anywhere else east of the Mississippi.
Artists will travel from around the country to bring their art to the masses. The artists and supporting art staff of the Such n Such crew will produce a nightly side show of gypsy style, that will resonate and welcome the viewer and passer by. This hand picked art team has worked together showing this art form around the country at multiple venues. We are a multi-talented multi-tasking crew that will make the art space "live".
please view this video link to learn more about who we are and what we do.
such n such @ Bonnaroo

thanks,
Charlie Smith
Sparceland LLC.