The Art of Such n Such @ Bonnaroo 2006
Step into a world where oddity prevails, and strange things are commonplace. Such is the art of Such n Such. Walk under an oversized misting umbrella which transforms to an interactive sound and light sculpture by night. Gape in awe as flames shoot skyward from a giant lighter and colored fire licks out of metal flowers. Glowing hot sculptures tell stories by night and create a sense of interest and wonder by day. Metal objects have fallen from space to land here and entice your senses. Take up a mallet and produce auditory vibrations as you play the discophone. Crackle and lightening emit from a strange coil controlled by a mad scientist. Circus imagery leaps out at you as a bright-eyed girl asks you to take your chances at the mustache wheel. All of the senses will be tickled by the art of Such n Such. We will create a space brimming with intriguing sculpture and visual art. There will be 14 sculptors, painters and fire artists bringing their work to this space. These artists will work together to create this cohesive and interactive area of mystery and fire.
Syd Klinge
lilmifisto tesla coil

This mini tesla coil creates a flare of lightening and a subtle flame effect, while emitting an electro-magnetic 'crackle.'
www.playahearth.com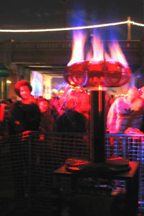 Charlie Smith + Jaime Ladet
Fire Cauldrons
Three large-scale wood burning fire caldrons that are visually stimulating day or night. There will be a nightly fire show to ceremoniously light the fire cauldrons.
www.howhowhow.com fire sculptures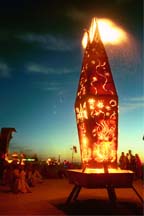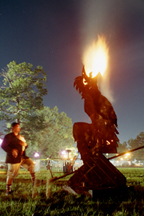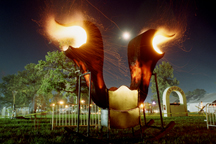 Jeffry Loy
Fire and light sculpture
Small, super-cool sculpture garden of fire & LED light flowers that will require some 110 20-amp power and propane.
www.firesculptor.com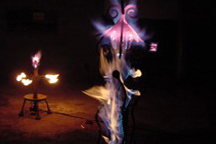 Gordon Chandler
Large Metal Sculptures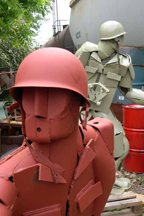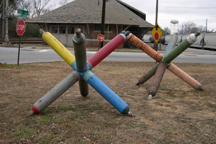 Mario Schambon & George Long
Discophone Interactive Sound Sculpture
The Discophone is very similar in approach to the xylophone or glockenspiel, but it is not tuned to any scale. It can be played well by both musician and non-musician alike, and is very resonant, letting any type of player create a swirl of sound.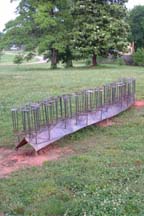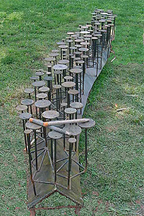 Ken Smith,
Giant Zippo

Ken has been a pyro tech for many years, he has created a 3' tall Zippo lighter that is a mini fire canon. The Zippo shoots a 50' burst of flame. Ken has operated and shown this sculpture in a public format for the last five years and is a fire safety inspector for the Burining Man LLC.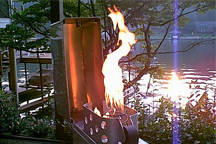 Paper Boy aka Jeff Morgan
The Storyteller Sculpture
This metal sculpture is a 10' tall human figure in a crouched position, holding a large cylinder zoetrope projector. It has an animated moving picture projector driven by a small fire (the size of a bbq grill) and light.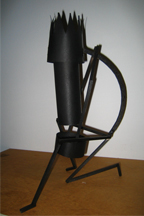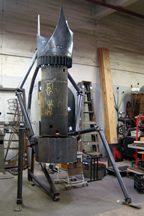 Jaime Ladet, Bonnie Reiss & Scott Dupree
Eyeball Quirkus Circus Vignettes
This painting installation will have three main components. One circus tent shaped vignette housing a moustache wheel and two tantalizing scenes with the heads cut out for photo opportunities. It is 12' tall and occupies a 12'x12' space. There will also be two 8'x8' walls, each with spectacular circus imagery interspersed in the space. They will tie in with the tent collage and the other vignettes.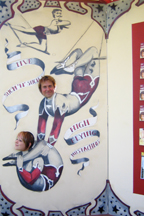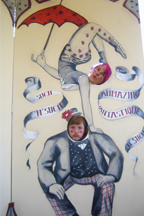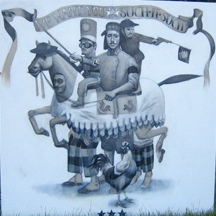 Tim Watts and Melvin Ocasio
The Magic Umbrella
This is a 15' tall umbrella sculpture that is an interactive sound and light installation. The sculpture is built from wood, metal and fabric and will appear as a huge umbrella. When you enter the umbrella it will emit audible tones. By day it is a space of shade with water misters, and by night a blinking light and color show. This is an oasis to rest & observe the surrounding area.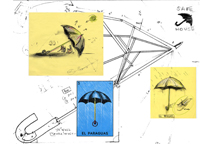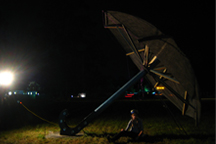 Nomadix Productions
Rob Minnihan
Nomadix Productions will be bringing several laser systems to add to the ambience of the Such and Such area along with a large scale sound system to entertain the crowds around the area at off peak stage times.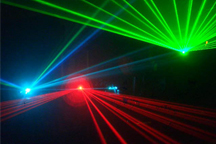 Gil Braum
Video Documentary of the Art of Bonnaroo
Is proposing to shoot a documentary of the artists and their installations during set up, the event, and break down.
Gil has over 10 years of professional experience working as a Producer, Director, Camera Operator, Editor, Pyrotechnician and Live Special Effects Technician. From commercials to Bar-mitzvah's Gil has run the gamut of video production and has found his passion and niche in the realm of documentary style productions. Some of Gil's recent projects are the camera operator for the Urban American TV Show airing on Comcast and Gil is also a POD producer for Current TV a new network television channel.

http://www.uastv.com
http://www.current.tv/studio/people/combustagil
http://www.ripeatlanta.com/ripe/pictures.html
For More Information on Bonnaroo Click Here